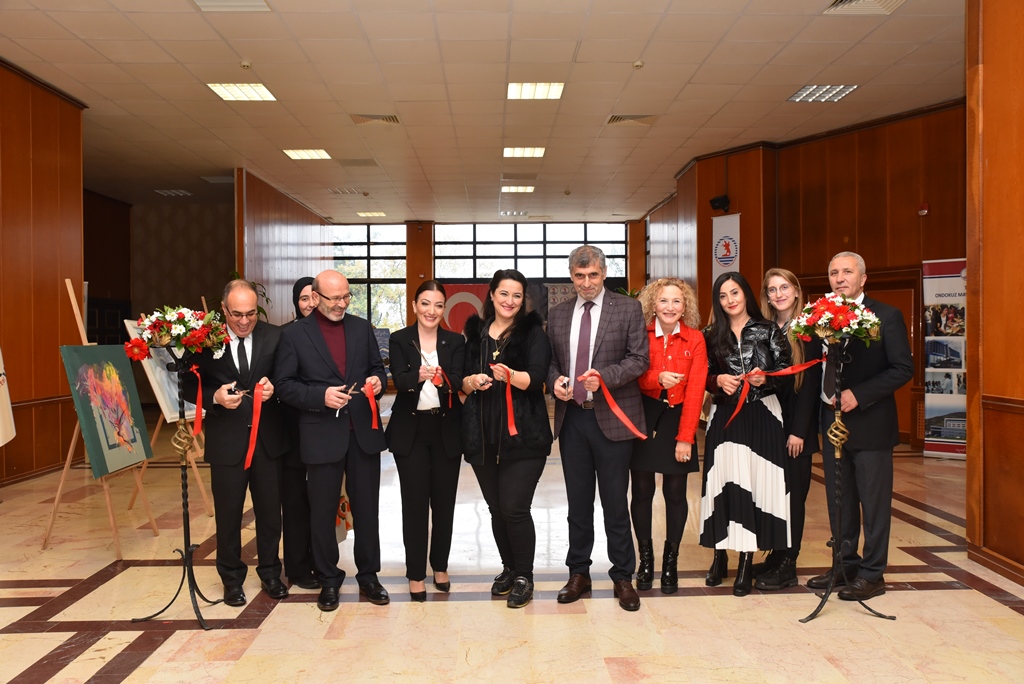 Supported by the European Union (EU) and the Turkish National Agency and carried out under the coordination of Ondokuz Mayıs University (OMU), a Multiplier Activity Program was organized within the scope of the "BasicEDU-Development of Model for the Strengthening Competences of Disadvantaged Women through Basic Education" project. Experts in the field participated in the event.
The program held at Atatürk Congress and Culture Center was participated by Vice Rectors Prof. Dr. Selim Eren, Prof. Dr. Cengiz Batuk, BasicEDU Project Coordinator Dr. Senem Gürkan, Head of the Directorate of Health, Culture and Sports and Legal Representative of the Project Güngör Kural, Branch Director Ali Cengiz Ciğerci, President of Samsun Bar Association Atty. Pınar Gürsel Yıldıran, Head of Small and Medium Enterprises Development and Support Administration (KOSGEB) Nebahat Livaoğlu, Samsun Family and Social Policies Provincial Deputy Director Sultan Bulut; Turkish Employment Agency Samsun Provincial Directorate (İŞKUR), Provincial Directorate of National Education, Samsun Provincial Gendarmerie Command, Provincial Directorate of Industry and Technology, Provincial Directorate of Youth and Sports, Provincial Directorate of Migration Management, Provincial Police Department, Municipalities, District Public Education and Social Service Centers, Guidance Research Centers, Samsun Probation Directorate, Samsun Violence Prevention and Monitoring Center (ŞÖNİM) representatives, women mukhtars working in Samsun, representatives of unions, associations, chambers, and cooperatives working on women, entrepreneurship and employment, academics and students. 
After the opening speeches of OMU Vice Rector Prof. Dr. Selim Eren and BasicEDU Project Coordinator Dr. Senem Gürkan, the "Empowerment of Women in Employment Participation and Development Panel" was held moderated by OMU Faculty of Economics Faculty Member Prof. Dr. Nuray Ertürk Keskin. The panel hosted the speeches "Current Trends in Women's Employment in Türkiye," presented by Faculty of Economics Member Assoc. Dr. Demet Özmen Yılmaz, "Legal Regulations for Women's Employment in Türkiye" by Samsun Bar Association President Atty. Pınar Gürsel Yıldıran and "Women Have a Place in Art and Music" by Faculty of Education Dr. Beril Tekeli Yiğit.
After the panel, BasicEDU Women's Choir, directed by State Conservatory Member Oğuz Yılmaz, and the music concert "For Women" was held. The program ended with the "Women Artists Mixed Exhibition" opening and a treat.
Vice-Rectors Prof. Dr. Selim Eren and Cengiz Batuk and KOSGEB President Nebahat Livaoğlu presented the participants Certificates of Appreciation. The BasicEDU team distributed gifts to everyone who participated in the program.