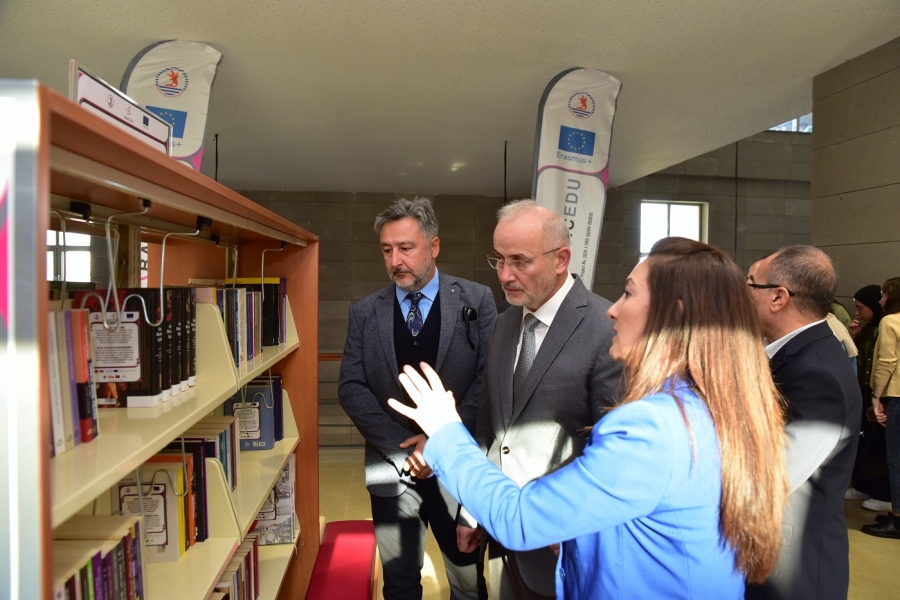 The "Women's Special Collection" was introduced and opened as part of the "BasicEDU - Model Development for the Strengthening of Disadvantaged Women's Competencies through Basic Education" project run by the Ondokuz Mayıs University Health, Culture, and Sports Department and funded by the Turkish National Agency..
The opening event held in the Central Library; Rector Prof. Dr. Yavuz Ünal, Secretary General Prof. Dr. İdris Varıcı, Head of Health Culture and Sports Department and the legal representative of the project Güngör Kural, Project Coordinator Assist. Prof. Senem Gürkan from the Faculty of Health Sciences, project partner and Canik Public Education Manager Zekeriya Özkan, Head of Library and Documentation Department Ethem Olukçuoğlu, Branch Manager Ali Cengiz Ciğerci in charge of the project, Research Assistants İrem Işık and Fatma Canım from the project team, academics and administrative staff and many students attended.
"Utilizing all available tools, we implemented positive discrimination in libraries"
"The project tender for the place that will be built right next to the existing library, which will be open 24/7, where various free treats will take place, where there will also be a working and resting area, and where there will also be a cafeteria, has ended," said Rector Ünal in reference to the work being done for libraries at OMÜ. Already, OMU Management had this initiative listed as one of its strategic objectives. Within the following 12 months, we will begin work on the project. With the help of all the resources at our disposal, we have practiced constructive discrimination toward the libraries, which we view as living spaces for the entire university. Libraries now stand out, have more resources, offer wholesome services, and are backed by knowledgeable individuals. In addition, we've helped our students use the Central Library to their advantage and use their incomplete studies to provide services there."
In his speech's conclusion, Rector Ünal said, "What we want is to define Samsun as the research hub of the region and to name the OMU library as an academic research institution. Instead of serving as a location for students to practice for college, our goal is to make this library a platform for actual education at the University, research, and publication of that research under the names of Samsun and OMU.
"The collection is the first stage of an extensive academic collection"
Ethem Olukçuoğlu, Head of Library and Documentation Department, pointed out the importance of the said collection and said, "Our library is always honored to be a part of such vital undertakings as well as supporting education, research, and development. Our library's "Women's Special Collection" is the start of a very sizable academic collection on women's studies and other subjects that will be used in Turkey in the future. The articles you see here now will soon be made accessible to our users and academics who are conducting research at the local, state, and national levels in a dedicated study room."
"Together, we're holding a big opening"
Assist. Prof. Senem Gürkan, the project's coordinator, stated, "Today, we are here to make a major opening jointly on behalf of both our university and the beneficiaries from other universities in line with women and gender studies, which is very significant and sustainable. I want to thank everyone who assisted us, including the friends, students, and project team."
Rector Prof. Dr. Yavuz Ünal, the project team, and participants viewed the collection as the promotion event came to a close with a musical performance.



https://www.omu.edu.tr/tr/icerik/haber/basicedu-kadin-ozel-koleksiyonu-tanitimi-yapildi